Dina Jyothi a prayer house at Poomala, Wayanad Dt., Kerala was started in the year 2003 for the daily Adoration. It serves as a power house of the Congregation where sisters from different Provinces come together for the ongoing spiritual renewal programmes and prayer. Holy hour starts at 9 am. and ends at 5pm. every day. It also serves as a common house for tertianship programme for three months - an intensive preparation for the sisters for their final commitment, one month spiritual renewal programme for the Jubilarians and other ongoing formation programmes and classes.
Dina Jyothi Prayer House
Perpetual Adoration
The common Novitiate house of the Congregation (Petrabhavan DSS Novitiate) has shifted from Bangalore to Thazhathoor, Sulthan Bathery, Waynad in the year 2011.
Petraniketan Novitiate House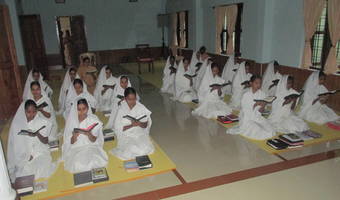 Novices at Batheri